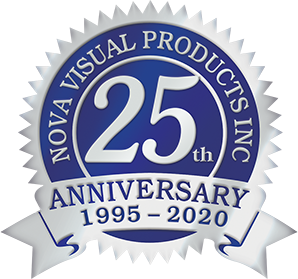 Here you will find new product information, industry updates, comments and suggestions on all things AV, presentation, audio-video conferencing wise as well as general life-lessons learned and comments that affect our daily lives and business.
_____________________________________________________
June 2020
The ability to pay our bills, keep a roof over our heads, clothes on our back and food on the table.  Those were the goals we set when we opened Nova Visual Products twenty-five years ago and have to say so far–so good.
It was 1995 when the late Dino di Marino, (co-founder of United Video) and I started Nova Visual Products.  That partnership was dissolved a couple of years later, which led to us taking on Ian Smith as a minority-share owner in the company in 1998. That partnership lasted until 2007.
Over that nine-year period Nova Visual Products attracted and retained several key personnel who have played vital roles in the success that NVP has enjoyed over the past 25 years.  
People like Guy Parent, who joined in 2001 and has become one of the most competent designer-programmers-installers in the commercial AV industry today. 
Christine Charron, since 2002 has been taking care of client's service requests, inquires for supplies and anything else needed to deliver customer service & support that is simply unparalleled by any other AV reseller in Ottawa.
And Dave Rothwell, hired for his repair experience in 2002, Dave has saved our clients time, money, and frustration in terms of quick repairs to all makes and models of equipment.
Joshua St. Louis, now in his 11th year, joined in 2009 and has established himself as the next generation of commercial AV professionals in the industry.  His understanding of today's technology brings confidence to our clients that is hard to match.  He truly is a son-of-a-salesman.
Mike Mitchener, our newest employee, joined the install team in January 2019.  He brings to NVP construction skills with a focus on carpentry – a benefit for "custom" fabrication when called for.  Mike's willingness to learn and personality makes him a perfect fit here at Nova Visual Products.
And Kim St Louis, who for the past 34 years has been my partner in life-love-and all things business has taken care of the administrative side of the business and a key reason we are still at it today.
Another way we achieved success, is by limiting the number of product lines we represent at any one time and being able to give up a line when the level of service-support does not meet Nova Visual Products standards.  This has allowed us to forge strong business relations with our reliable suppliers and become astute with the products we sell, so that we can speak with confidence when asked for assistance.
Great management, a good team, a great line up of products however doesn't mean a thing without clients.  Our success for the past quarter-century is because of our clients who rely on Nova Visual Products.  It is clients who choose Nova Visual Products as their preferred AV partner that we thank the most.  Without them, there would be no Nova Visual Products. 
The audio-visual landscape has changed since we first opened our doors in 1995 and does not even resemble what the industry looked like when I first got into the business thirty-seven years ago.  The traditional AV tech has been replaced with an IT specialist.  Repairing defective gear has mostly been replaced with a "throw it away" mentality.   And competition has increased too.  Back in 1983 we didn't have to contend with other industries, (ie: telephone companies), large US firms opening in Canada, or big box stores.   
Back then most commercial AV companies were small scale, family run businesses focused on customer service and support, responding to requests in a timely manner.  That's still our business model today.  Can't think of any reason to change now.  Thanks for all your past support.
We're here to assist on any project in need of our AV EXPERTISE!
_____________________________________________________
June 2019
HAPPY ANNIVERSARY!
Josh St Louis hits the 10 Year Mark
at Nova Visual Products
(2009-2019)
I thought I was young, when I got in the AV biz thirty-seven years ago at the tender age of, twenty-one.  But with our son Josh turning thirty earlier this year and 10 years with us here at Nova Visual Products, I guess he holds the family record now. 
Hard to believe it's been a decade since Josh first joined us in a fulltime capacity as a sales representative.  Since then he has matured into a consummate professional, and asset to Nova Visual Products.
Congratulations on ten years Josh.  We are proud of all that you have accomplished and can't wait to see what the next ten years have in store.
Love,
Mom & Dad
_____________________________________________________
INTRODUCING OUR NEW EMPLOYEE-INDEED
When one of our installers decided to leave last April to pursue his theatrical dreams, it forced us for the first time in ten years to look for a new employee.  What I learned is – they are hard to come by.  I also learned a lot of people want to be designers, programmers, project managers, anything but installers.  The other thing I also learned was, the only company that seems to be making money from the lack of talent in the AV industry these days are the job posting sites…particularly INDEED. 
Never being a company to follow, we were reluctant to jump-on board and be yet another AV company looking for talent on an already overcrowded job site.  We decided instead that old fashion word of mouth – soliciting without paying to be listed with all the rest – using free-lance installers and offering trial periods to others was the way to go, until we found the right person.
After all, customer service and support has been paramount to our success here at Nova Visual Products for the past twenty-four years we've been in business.  Clients who engage with us on a consistent basis do so because of it.  The level of support everyone here at NVP offers clients is simply because it is our natural-instinct in wanting to help\treat clients the way we would want to be treated, if we were the customer.
We wanted to ensure whoever our next installer was going to be, not only to be a good fit with us, but with our clients too.  That's why it has taken until now to find the right person to join the NVP team, but the wait has been worth it.  And how did we find our new installer?  Word of mouth.  It was our very own Dave Rothwell who made, the suggestion and we're glad we listened. 
Our new installer is Mike Mitchener.  Thirty-six years old, married, skilled in construction trades, technically-knowledgeable in nautical marine equipment sales, Mike was looking for a new challenge too.  So, while Kim and I were away for a week this past January, Mike joined our other techs on a few of installations and the feedback was positive.   How positive? 
Guy Parent, our manager of technical services was pleased.  So that was a good sign.  Anyone who knows Guy can attest to his high standards and technical acumen.  If he was suitably impressed, with Mike's installation abilities, we felt we were on the right track.  But we wanted to make sure.  So, for the next few weeks Mike continued to assist on installs. 
Then on February 22, we offered Mike the fulltime position of installer here at Nova Visual Products.  Mike's addition to our technical department restores us to the level of customer support we are known for.  And his carpentry skills, adds another layer of competence, when custom fabricating solutions for our clients.  Eager to learn, confident and capable in his abilities we look forward to having Mike engage with our clients.  We welcome Mike to Team Nova and look forward to watching him grow in this crazy industry of ours. 
Here's Mike's contact info.  m.mitchener@novavisual.ca  cell:  613 218 6874. 
Nova Visual Products will always entertain the idea of adding other talented professionals to our lineup.  Whoever that next person might be, whether it's another installer, a salesperson, an IT expert, an administrative type, that person will come to us word of mouth.  After all you just can't get the same thing from a website, no matter how many jobs you post. That's what this whole job-search has taught me indeed.
———————————————————————————–
June 2018
NOVA VISUAL PRODUCTS
PROUDLY INTRODUCES THE
FSR HUDDLE BLOX CHARGING STATIONS
FSRs Huddle BLOX™ tables from Nova Visual Products are the perfect solution for those in need of charging stations. Practical sizes, makes these FSR Huddle BLOX™ charging stations ideal when you don't have a lot of room to spare.
The FSR large Huddle BLOX™, measures in at a mere 21" x 21" x 21". The FSR small Huddle BLOX™ is only 21"x 13"x 21." And the price won't bust the budget either!
A great addition to any office, library, retail, public space – everywhere charging is needed FSR Huddle BLOX™ works. The multi-use top is perfect for one-on-one meetings, study groups, or public spaces wanting to provide charging capabilities for clients, visitors and staff.
FSRs TC-WC1 wireless charger is compatible with all Qi standard devices. It also has the ability to fast charge any Samsung device with wireless adaptive fast charging as long as the unit is powered by an adaptive fast charge power supply.
These sturdy charging stations are available in two sizes and the finishes include Black, White and Maple.
Save $100.00 NOW on any FSR Huddle BLOX™ purchased between now and September 28, 2018.
FSR Huddle BLOX small $625.00, (tax extra). Price includes shipping-setup in your office.
FSR Huddle BLOX large $725.00, (tax extra). Price includes shipping-setup in your office.
Check out the Huddle BLOX specs here: Huddle Blox charging Stations
Please contact Mike St Louis for additional information or to place your order today!
_____________________________________________
May 2018
Connectrac Overstock!!!
We have an overstock of Connectrac components
Check out the linked pdf file for a list of components and pricing…
_________________________________________________________
April 2018
Super Deal!!!
Nova Visual Products and ViewSonic
SAVE YOU MONEY
 Viewsonic CDE7061T 70inch 10-point touch interactive commercial displays with
Built-in dual core CPU and pre-installed Viewboard Software
SUPER SAVINGS SALE
3 Viewsonic CDE7061T + 3 Viewsonic WMK-047 wall mounts:
$15,995.00 + hst = $18,074.35!
Price includes delivery and recycling fees.
OVER $10,000 IN SAVINGS!
 CDE7061T Specs
Price valid until further notice and subject to product availability from Viewsonic
For more information please contact Mike St. Louis
_________________________________________________________
March 2018
Click on the link to see our Super Demo Deals!!
PROJECTOR DEMO DEALS WITH FULL WARRANTY
_________________________________________________________
January 2017
Join us in congratulating Christine Charron and Dave Rothwell on their 15th Anniversary here at Nova Visual Products, (January 21, 2002, – January 21, 2017). A true rarity these days, especially in our industry that's seen so many personnel changes over the past several years.
That's why we can say with confidence that Nova Visual Products has the longest assembled team of AV professionals in Ottawa, (if not the entire Country) working today.
 Since 2002, Christine Charron has been the first voice you hear when you call for Nova Visual Products AV EXPERTISE! Whether it's to book an installation date, check delivery of your order, confirm a price, or set up a repair service call, it's Christine that gets it done each day for our clients. Always prompt, always here, always reliable Christine exemplifies what customer service means to Nova Visual Products. 
 Dave Rothwell, hired on the same day, had a ton of experience before joining Nova Visual Products in 2002. Originally hired for his repair abilities, Dave has saved our client's money either by fixing or recommending you don't, and allows us continue to offer after sales service that is simply unparalleled by any other AV reseller in Ottawa.  Always in a good mood, always willing to take the time to listen –share a joke or two, Dave's laid back approach to customer satisfaction and respect for all, is simply timeless.
 I've said it before it's like ground-hog day around here. And while that may not be exciting to some, it makes for more consistent reliable service for our clients, our suppliers, and all of us here at Nova Visual Products.
 So ya, we're celebrating for sure, and wanted everyone to know why. Thanks Christine and Dave, we really appreciate your dedication, commitment and loyalty to NVP and our clients who depend on you every day.
_________________________________________________________
July 2016
Join us in congratulating Guy Parent on his 15th Anniversary here at Nova Visual Products, (July 23, 2001 – July 23, 2016).  Certainly an achievement in any industry these days, and one that should not go unrecognized.  Guy's commitment to our client's satisfaction is one of the major contributing factors that have made Nova Visual Products the success we are today.  And for that we say thanks Guy!
We like to joke at Nova Visual Products that it's like ground-hog day around here.  Not much changes from day-to-day as we carry-out our daily routines.  Still focused on saving our clients time, money and frustration on any project in need of our AV expertise, Guy's experience and factory training has allowed us to deliver consistent-proven solutions day in and day out for clients choosing to partner with us. His willingness to listen to client's requirements, ability to present optional solutions, clearly laying out the pros & cons of each one, and always offering honest-experienced reasoning gives our clients confidence in knowing we have their best interests in mind.
Guy, along with his co-workers at Nova Visual Products is the longest team of AV professionals in Ottawa, (if not the entire Country) assembled and working today.  It is because of this familiarity of practices and procedures between ourselves that we can respond to our client's in a concise and timely fashion.  There is never any doubt that Guy can solve & satisfy any requirement – as we know firsthand just how seriously he takes his responsibilities here at Nova Visual Products and to our most important assets, you – our clients.
Factory trained and certified, headed off for more training in the fall to increase his Crestron programming expertise.  Here's to another fifteen years…one day at a time.
Again congrats, Guy, and thanks for your commitment and dedication to all of here at Nova Visual Products.
Sincerely,
Mike St. Louis
President
_________________________________________________________
January 2018
 2018 will mark our 23rd  year in business, and we want to ensure you have every opportunity to stay engaged with us.  I am contacting you to find out if you are still involved with the types of products and services Nova Visual Products offers, or if someone else has taken over these duties and responsibilities.
Established in 1995, Nova Visual Products is a locally owned and operated Commercial Audio-Visual Systems Integrator, of reliable AVpresentation, video\audio conferencing equipment.  We consult, we design, we supply, we install, we train, we maintain, and we provide after sales servicing of cost effective solutions, tailored to your individual needs. 
Our team of professionals makes Nova Visual Products the preferred choice of those who want the job done once, done right, done on time and done on budget! We pride ourselves on having one of the longest, most consistent AV teams in the AV industry.  Professionals like:
 Kim St Louis making sure your orders and all other paperwork gets processed in a timely fashion since 1996.  Guy Parent designer, programmer, and lead installer since 2001.  Christine Charron   administrative director and usually the first voice you hear when you call Nova Visual Products since 2002.  Dave Rothwell repair technician, installer, designer, since 2002.  Joshua St. Louis sales, since 2009.  And myself, who has been in the Ottawa AV industry since 1983.
 We are available to service any type of AV presentation video-audio conferencing equipment your currently own.  We de-install existing systems that need to be moved.  We evaluate the components and advice how best to use your older equipment with the new digital media available today in an effort to keeping your costs down.  We re-install once you're ready to go, and guarantee our labour, parts and materials for one full year.
 We also offer a wide range of consumable products such as projector lamps, cables and connectors for computer, video- audio equipment, as well as rentals of equipment and technical personnel for daily, weekly, annual events.
 Please let me know if you are still involved with these types of products and services, or if I should be contacting someone else.
 I look forward to hearing from you.
 Sincerely,
 Mike St. Louis
President
_______________________________________________________________
QOMO Products
While the name Qomo may not be as recognizable as others, their products will soon have you forgetting those other brands you commonly think of for, interactive multi-touch LED displays, wireless presentation devices, wireless interactive writing tablets, disability-compliant display mounts, document cameras, and audience response systems.  Have a look at the specs attached and visit www.qomo.com for additional information and products.  If you have any interest, or want to test any at your facility, let me know and I'll arrange it.
 Qomo Quest-Line of Interactive LED Multi-Touch Displays.  
 – 6pt touch, multi-user.
 – Tempered glass.
 – 4K (84inch size only), 1080p.
 – Best connectivity in class.
 – Ultra-fast touch response.
 – Built-in speakers.
 – Integrated PC-option available.
 – Full-featured professional annotation software.
Quest65-Pro 65″ multi-touch display unit: $5,745.00.
Quest70-Pro 70″ multi-touch display unit: $7,245.00.
Quest84-Pro 84″ multi-touch display unit: $15,995.00.
Qomo Interactive Writing tablets.
Write, draw and annotate over any running application.

 

Works with Doc Cam, Camcorder, and firewire equipment to annotate on live video.

 

Directly write into Office (Word/Excel/PowerPoint) files.

 

Full featured object management tool (copy/paste/rotate/zooming/color changing) available.

 

Thumbnail review capability enables you quickly to find any marked slides.

 

Image library with over 5000 images available.

 

Electromagnetic grip pen can function as a mouse.

 

Intuitive and user-friendly graphic based interface allows quick learning and mastering.

 
QIT300 is 4:3 Aspect Ratio:                                            $1,265.00.
QIT500 is 16:10 Aspect Ratio:                                       $1,635.00.
Qomo disability-compliant display mounts -Balance Box mounts. 
Fits on any interactive touch screen or monitor giving 16″ of vertical movement.  

The Balance Box has a patented spring system that neutralizes gravity for effortless vertical movement.

The result is a fast, safe, and easy movement of any LCD or LED screen.
QIT-WALLM-H-TO1:                                                     $1,445.00.
Qomo Document Cameras.
QPC70: 
Portable

HDMI 1080p in/out

8X optical zoom

SD memory storage

Up to 1080p resolution

Foldable LED lights

Foldable rigid arm

Handle on base
Only  $895.00.
QD3300: 
Full-Size Desktop

12X optical zoom

XGA, SXGA, WXGA and 720p VGA output for use with a variety high resolution projectors and displays

High quality precision lens with 12X Optical Zoom and 10X Digital Zoom

USB computer interface with Image and Video Capture software

Internal Image Storage for 128 High Resolution Images

High speed USB 2.0 port for Video/Image capture on both PC and Mac

Plug n Play

Powerful set of advanced image manipulation tools and special effects

2 VGA inputs and 2 VGA outputs provide outstanding installation flexibility and convenience

Arm and Base LED lights are ECO-Friendly, cool to the touch and last up to 10 years

View transparencies, X-rays, photographic negatives, and microscope slides using the built in full sized LED light box

Wireless Remote Control
Only  $975.00.
QD3900: 
Full-Size Desktop

12X optical zoom

Switcher/scaler

HDMI in/out 1080p

Motorized camera.

Inputs & Outputs: HDMI, VGA, RS232, C-Video

HD 1080p Resolution

10x Digital Zoom

A4 Backlit Stage

128 Image Storage

Image/Video Capture Software
Only   $1,735.00.
Qomo Audience Response Systems
Innovative cell-phone like design and vibrant, full color LCD display is engaging to students and teachers alike.  It can be used wirelessly in a lecture hall, or leave the computer in the classroom and use the clickers out in the field to send and store information.  The QRF900-series  allows for alpha-numeric and text inputs. Responders can key in short text answers along with numeric answers, or a combination of both.  The full color, 1.7 inch display shows on-screen text for quizzes. This means students can see the question right on their QRF900.
QRF932 system:  Includes 32 Radio Frequency student remotes, 1 teacher remote, and 1 receiver.  $2,095.00.
If you have any questions or want to test any Qomo product at your facility contact Mike St. Louis.
If you have any other projects in need of our AV EXPERTISE, please do not hesitate to contact me.
___________________________________________________________
THIS IS INTERESTING
AV installations without limitations!
The MUSE transmits video, RS-232\IR signals and AC power, up to 300ft (90m) over a single unshielded AWG-23 CAT-6 cable to LCD displays, (150watts max).
The MUSE allows installation of video displays where no AC power exists.
The MUSE is fully compliant with HDMI/HDCP standards and is UL listed.